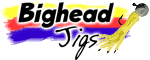 Home



About Big Head Jigs



Order



Links



Crappie Catching Tips



Contact Us

Kentucky Lake Maps



Reelfoot Lake Maps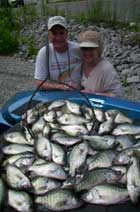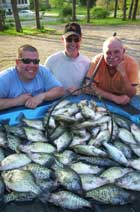 Crappie Fishing Tips

The #4 light-wire hook lets you probe the thickest cover and not get hung up, yet the hook is big enough to land "Slab Crappie". The hook will bend easily, making it easy to pull them free from cover. Team this jig with braided line, that has no stretch, and you will almost stop loosing jigs. Just a quick snap of the rod will generally free the jig.
On cloudy overcast days try the red, black, or plain Big Head Jig. On clear bluebird days chartreuse, pink, or white.

When fishing vertically, keep up with the exact depth you're fishing at all times. Start with lures at a variety of depths. When you find a depth that's producing, focus on that depth. Old timers used to use a rubber band on their spinning reels. Once you catch a fish, just put a rubber band around the spool of the reel. Then you can return to that depth quickly and exactly.

When the Crappie seem to disappear from the area you've been fishing, move out to deeper water, but fish at the same depth. Crappie will often suspend out from structure or dropoffs, but maintain the same depth. This is often the case in summer.

While many fishermen rely on the shallow water of spawning crappie for good fishing, crappie will almost always be found in the deeper depths. In a typical year there may be only two to three weeks when shallow water will provide more consistent fishing.
When fishing a jig, use a loop knot for best results. It allows the jig to move more freely when casting and provides an enticing subtle movement when fished vertically.

Order Now!

Send Us Your Crappie Fishing Tip:
info@bigheadjigs.com